Precision Stainless Steel Drain Systems are designed to withstand the harshest environments, and can be custom-designed with multiple options to meet your needs.
Precision Stainless Steel Trench Drains and Slot Drains have catch basins and strainer baskets. All seams and junctions are meticulously welded during manufacture and installation. Trench drain gratings are available in fiberglass, galvanized steel, stainless steel, or cast iron.
Precision Stainless Steel Drains and Trench Drains come in a variety of sizes, and the trench drains, cleanouts, and vapor traps can be customized per request.
Types of Drains:
Box Drains with Catch Baskets
Slot Drains
Trench Drains in 3 sizes: 4", 6", and 8" plus custom sizes available
Grating Options:
Stainless steel
Fiberglass
Cast iron
Galvanized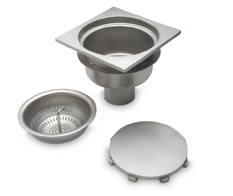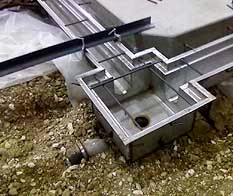 The Case for Stainless Steel
Uniform Quality
Lifetime Value
Custom or Standard Sizes Available
Easy to Clean
No Maintenance
No Cracks
No Erosion
No Joints to Caulk
No Bacteria Issues in Porous Concrete or Cracked Polymer Type