RezChip decorative chip flooring combines customized design with long-lasting good looks. RezChip is the perfect choice if you need a seamless flooring system that is durable, cost-effective, and beautiful.
RezChip flooring system incorporates colored acrylic chips in a resin matrix mixed specifically to meet your physical and chemical needs. An epoxy base bonds it to the substrate, and gives it strength. Next, a 100% solids epoxy resin fill coat provides maximum UV stability. The topcoat is a unique 100% solid polyurethane (CRU). It's this coating that gives this floor excellent impact and wear resistance, as well as superior color and gloss finish retention. It is generally applied at a thickness of 1/8" to 3/4" but may be applied thicker if conditions warrant.
The decorative resurfacer fuses multi-color chips with 100% solids epoxy to provide a custom-designed look. Chips are available in Macro and Micro sizes, and are available in a wide variety of colors and finishes, including metallic and glow in the dark.
Because of its durability, sanitary properties, and customized appearance, RezChip floors are an excellent choice for:
Pharmaceutical Facilities
Food & Beverage Plants
Commercial Kitchens
Health Care Facilities
Kennels
Auto Dealerships
Airplane Hangers
Restrooms
Break Rooms
Offices & Halls
Nightclubs
RezChip Floor Features:
Sanitary & Seamless
Wear Resistant
Impact Resistant
Limitless Design Capabilities
Low-Odor
Minimal Downtime for Installation
Cost Effective
High Gloss & Color Retention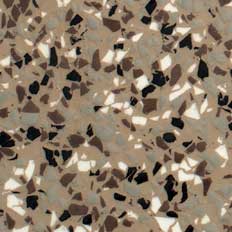 Bed Rock
Other colors available, please contact
Precision Industrial Flooring for
more information.

RezChip is a decorative, seamless flooring system consisting of 100% solids epoxy and decorative chips, with a 100% solid polyurethane (CRU) coating to give excellent durability, color and gloss.
RezChip Highlights:
Sanitary & Seamless
Wear & Impact Resistant
Limitless Design Capabilities
Minimal Downtime for Installation
Cost Effective
Because of its durability, sanitary properties, and customized appearance, RezChip floors are an excellent choice for:
Pharmaceutical Facilities
Food & Beverage Plants
Commercial Kitchens
Health Care Facilities
Kennels
Auto Dealerships
Airplane Hangers
Restrooms
Break rooms
Offices & Halls
Nightclubs